A lot is being said now about the newest form of laptops – the netbook. Laptops were originally designed to be semi-lightweight, portable computers that a legal nurse consultant could easily carry from home to the medical library, to work, to wherever. Soon form was forgotten and notebooks became larger, more powerful and screens became wider. Before long, laptops were "desktop" replacements and almost as heavy to carry.
My old Compaq laptop had such a small form factor that I could easily open it on an airplane and work even if the hospital administrator slacker in front of me decided to crank his seat all the way back and sleep on the flight from Poughkeepsie to Sioux City. My new Dell hardly fits on the seat tray and Vickie has to belt my elbows to my waistline before I can type. Sure I'm envious of your Apple® MacBook®, but I can't wait to see you try and open it up while seated next to me in steerage.
Netbooks and mini-notebooks are the backlash. These are tiny laptops usually weighing under three pounds with 10-inch screens, Windows® XP and Microsoft® Works (Linux and OpenOffice, if you're daring), a relatively small hard drive, 80 GB or so, or a 40GB SSD (solid state drive), 1GB of RAM and a 1.6-GHz Intel Atom processor. They are priced at just over $400. That sounds like a pretty good deal – but is it? Sure, it is a computer but they're not designed to be used by a hard-working, multi-tasking Certified Legal Nurse Consultant. These are designed with one purpose in mind – portability.
They're great if all you want to do is surf the web. You can do research for your legal nurse consulting business, stay in touch with your attorney-clients via email and maybe do a little word processing (such as drafting that report at the library or taking notes while interviewing a potential plaintiff). Do not, however, expect much performance from one of these. They're better than trying to surf the Internet on a smart phone, but don't try to edit photos, include graphics in a report or render a report into a PDF. Netbooks generally do those tasks – but you'll spend a long time watching the onscreen hourglass. And, if you've got big hands or thick fingers, the tiny keyboard will make you crazy. You may also need to consider an external CD/DVD drive if you plan on installing software other than what's preinstalled.
But, you can tuck the netbook in a backpack or purse and travel fast and loose. We have an old Fujitsu P-series Lifebook (yeah – it's old and slow) that's about the same size and weight as a netbook that we carry on vacation. With my Verizon Wireless Internet card or the hotel's wireless, it keeps me on the Web, in the know and weighs a little over three pounds (and it's paid for).
If you're considering a netbook purchase, here's some basic specs:
Windows® XP.
80-120 GB hard drive (not solid state) running at 5,400 rpm or higher.
1-1.5 GB of RAM.
Largest keyboard supplied by that maker (92% is great!)
Built in Wi-Fi card (802.11b/g) and an 10/100 Fast Ethernet jack.
6-cell battery, if you'll be traveling or using your netbook away from your office.
Built-in speakers.
VGA-out so you can plug in an external monitor at home.
Two or more USB inputs/jacks (one for your USB hub at home).
Microsoft® Works with the Office 2007 Compatibility Pack.
Norton or MacAfee Internet security software.
If you have money for just one computer this year – buy yourself a full-fledged notebook as a desktop replacement and skip the netbook. Then get yourself a dock and all the other stuff discussed in my earlier Tuesday Tech Tip Extend Yourself with a Hub, published December 23, 2008. You'll have a better experience and get more out of it.
If you have the money and the need to buy yourself a $400 convenience – consider a netbook. It's a convenience you won't regret.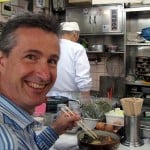 Keep on techin',
Tom