Thanks to all of you who joined Vickie and me at my surprise birthday party Saturday night. Today's really my birthday but to get 80 adults and miscellaneous children to stay out until the wee hours on a work night is pretty hard, so she planned it for January 17, the Saturday before.
Did I mention it was a surprise party? I really mean SURPRISE party. I had no idea whatsoever that Vickie had schemed, plotted and planned (not to mention gone wine tasting during a workday) for so long with so many to pull off my surprise.
Special shout-outs to those who were kind enough to come in from out of town, the two who ran in the Houston Marathon the next morning and to someone who had to work Sunday (I hope that sermon came out well). Thanks too, for those who came from all over town, arranged sitters, etc. I was, and am, overwhelmed by your generosity (and don't get me started on the gifts).

For those of you who know Vickie, the party didn't just end Saturday (well, really Sunday) – she kept it going for the better part of Sunday and even Monday. I think I'm the luckiest guy in the world (now that the headache is gone and Vickie moved the recycle bin full of wine bottles into the neighbor's yard).
I hope to see you all there again next year, in the same place, for even more fun.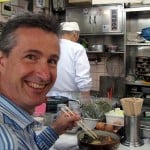 Tom