I'm a mobile user. I make no pains to hide it from you. Give me a laptop, a spare battery and a wireless connection, and I'm happy no matter where I am. Vickie often jokes that if there was a disaster, I'd grab my laptop before her – she's not far from the truth (she'll never forget my actions during the great condo fire of '88).
Anyway, I can't spend my entire life on the road (although it seems like I do). For those odd times when I'm at home, I have a docking station that I drop my laptop into. Into the docking station, I've plugged my dual 20″ monitors, a full-size keyboard, trackball mouse printer, flat-bed scanner (for photos), Fujitsu ScanSnap (for documents), a USB cable for my BlackBerry® and camera, that snazzy white cable that came with my iPod and a USB extension cable (with the female USB end) that keeps me from having to look for an open port when I'm loading a memory stick. At the office, my dock is identical, sans the scanners and iPod cable. Best of all, whenever I undock to move offices or catch a flight I NEVER UNPLUG A CABLE!
I know some legal nurse consultants haven't set up a dock yet to take advantage of the new big screen monitors. So you're constantly plugging and unplugging USB cables from your machine every time you need to move it (or clean under it).
"Tom," you might ask, "how did you ever manage to cram 7 USB connections into a dock that has 3 USB ports?" Easy. It's a solution that's helpful even if you don't use a dock for your laptop.
Depending on the number of connections you need, buy yourself a small, powered USB hub like the Cables To Go 7 Port USB 2.0 Hub ($27.99 at Amazon.com) or the D-Link DUB-H4 High Speed USB 2.0 4-Port Hub ($25.98 at Amazon.com).
Once your hub arrives, unpack it, follow the instructions, connect it to your laptop (or even your desktop) and plug all your USB peripherals into it one at a time. Make sure you use the accompanying power supply because some laptop USB plugs don't always give off enough juice to power an external hard drive and all that other stuff you'll end up plugging into it (like your USB Plasma Ball $12.99 from ThinkGeek.com).
My hub plugs into the back of my dock taking up one USB plug. Even better there's no wear and tear on my USB connections from constantly sticking them in upside down (admit it). Desktop users will love not having to crawl around on the floor looking for an open port and can use the hub to extend their number of available ports.
Next time you grab and go with your laptop, you'll only have to unplug one USB cable and won't pull the entire contents off your desktop if you miss a cable (don't ask). This is a much cleaner and simpler system and isolates all your connections at one point. Occasionally I'll have a device stop working and I just unplug it, replug it and I'm back to work!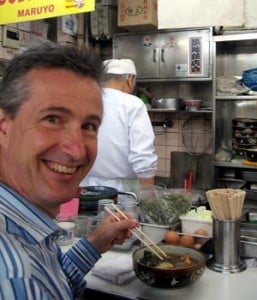 That's all for now – keep on techin',
Tom