We all have goals of saving money. Do you want to learn a great way to save over $400 in 2009? Save yourself the expense of a dedicated fax line. If you don't use your fax machine that often, or if you send more faxes than you receive, you can buy a cheap Duplex Wall Jack Adapter ($2.51 on Amazon.com) and plug your phone and fax machine into that adapter.
With the adapter, both your home or office phone and fax machine are on the same line. Next, set your fax machine to "Manual" and call the phone company and cancel the old dedicated line. On the manual setting you can send faxes at any time and the fax won't answer when your attorney-clients call, your regular answering machine will. If you need to receive a fax, you can activate the fax – but you have to be there to switch it on, which may be inconvenient.
If you want to keep the full functionality of the fax machine, add a Command Communications Comswitch 5500 3-Port Phone/Fax Modem Line Sharing Device ($50.24 from Amazon.com) between the wall and your phone and your fax machine. This neat little device senses the type of incoming call (probably from the fax screech) and directs it to the appropriate device.
You're probably spending $38/month or better on your dedicated fax line so this system will pay for itself in 2 months!
Now that you're saving money hand over fist start planning on your next equipment purchase: A Fujitsu ScanSnap S510 ($399 on Amazon.com). This scanner is the size of a Barbie® Lunch Box and it's fast. Feed your papers in like a fax. It quickly and easily scans both sides of a document directly to a specific application such as Word® or Excel® or, into a searchable PDF for easy filing, emailing or other communication. There's even one for Mac users!
Now you can start scanning your reports, medical records and other paperwork and clean out those filing cabinets. It also comes with a full version of Adobe® Acrobat® which lets you edit your documents after scanning.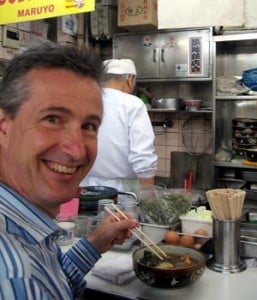 This sure beats faxing and is great when you're sending contracts or other reports to an attorney and don't want to provide them with the native Word® document.
See you next Tuesday!
Tom