"Because I work part time as a Certified Legal Nurse Consultant, there are days in which I am not involved in my CLNC business. On those days I may be visiting with my grandchildren, reading, exercising, volunteering or enjoying activities with my husband or visiting with friends."
A Typical Day in the Life of Certified Legal Nurse Consultant Carolyn Bilodeau*
by Carolyn J. Bilodeau, RN, BSN, MS, CLNC
*Results are atypical and may vary from person to person.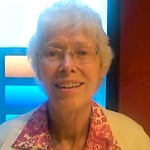 Because I work part time as a Certified Legal Nurse Consultant, there are days in which I am not involved in my CLNC business. On those days I may be caring for or visiting with my four grandchildren, reading for pleasure or reading to keep up with medical and nursing advances, gardening or exercising, volunteering as a coordinator of pastoral visitors at a hospital, involved with church-related activities, enjoying activities with my husband or visiting with friends.
When I'm working on a case, my primary focus is that case. When the documents arrive (usually by email) I first download and save them. Using information from the attorney's telephone call or letter, I review the titles of the email files and may even skim the documents to determine where and how to start.
If the case involves a new topic, I begin by researching the topic. I may decide I need a CLNC subcontractor who has more knowledge and experience than me. If the case matches my expertise (e.g., like sexual abuse), it's easy for me to quickly start drafting a summary.
First I carefully list the documents that were sent to me for review. Next I create the headings under which I'll enter data such as cast of characters, background of victim (may include school or health history), functioning of victim prior to assault, description of sexual assault, response to sexual assault by others (e.g., institution, police, ambulance, hospital, etc.), functioning of victim after sexual assault (including medical, psychological and counseling reports), background of alleged offender and current functioning of victim.
As I read the documents, I enter data under the appropriate heading with no concern about spelling, grammar or sentence structure – I'm just entering information and, if necessary, the file name and page number. Of course, these headings may change; some might be deleted and others added. I also consider what other types of documents I should prepare. I might need to create a table to show changes in a nursing home patient's behavior prior to and following sexual assault. Or I might need to create a chronology of events documenting a provider's responses to a patient or to a parent who reported sexual assault.
As I review the documents, I list my questions, observations and need for additional data in a category titled "comments", again without organizing or editing – I sort these later. There may be hundreds of pages of documents in one file and there may be many, many files so I don't read them all in one day.
For a change of pace, I switch from the case documents to the Internet to research the issues; e.g., laws in a particular state, the definition of a sexual predator or sexual offender, the responsibilities of a nursing home if a sexual offender is admitted, how the institution defines itself on the Internet and any news about a particular offense or alleged offense or alleged victim or perpetrator. If a criminal case has already been completed, I read it to see how this case has been reported.
After several days – depending on the complexity of the case and the purpose of my involvement – the documents have been reviewed, the data has been organized clearly and succinctly, appropriate research findings have been included, my observations, comments and questions have been organized and a summary has been prepared to meet my attorney-client's needs.
Once I complete the work, I let it sit overnight so that my brain can continue to sift through the information. When I reread it the following day I make necessary changes and send it off. Then, it's time for some fun!
Click here for success story ideas.
Back to Legal Nurse Consultant Stories