Certified Legal Nurse Consultant Success Stories*
*Results are atypical and may vary from person to person.
Once You Master the System – Creating Results Is Easy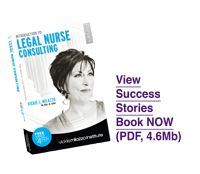 Vickie L. Milazzo's blueprint for legal nurse consultant success has proven itself over and over again. Thousands of nurses like you have used her formula to change their lives. You can do it, too. The CLNC Certification Program demonstrates all Vickie's strategies and techniques in such a clear, easy-to-absorb format, you'll know exactly what to do. And because every step has been time-tested and proven effective, you'll soon be cashing in on your nursing experience. Taking action and reaping the rewards will be easy.
Select the options on the left side of the screen and:
Read stories of successful Certified Legal Nurse Consultants.
Watch videos of RNs explaining the power of the CLNC Certification Program.
Learn what these Certified Legal Nurse Consultants have to share about their CLNC experiences and Vickie Milazzo Institute.
Attention CLNC consultants. Share your own CLNC Success Story with our community! (Looking for story ideas? Click here.)